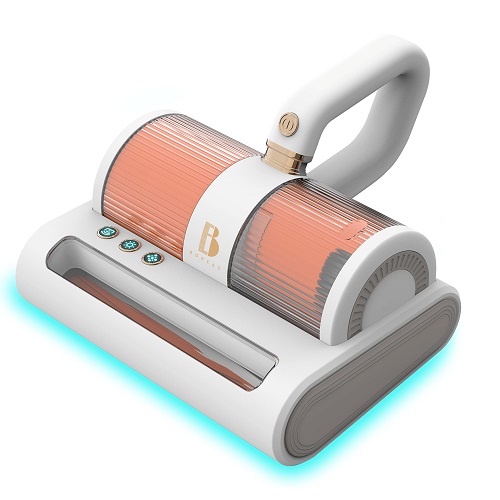 【Dual Motors】The latest 5th generation motor ensures a powerful 14kpa suction. The auto brush is equipped with an sole motor independently, which drive it beats strongly in a high frequency at up to 48000 times/min. It goes directly to the deep area and remove all the accumulated dust, dander and mites.
【UV Sanitizing&Ultrasonic Tech】253.7nm* high efficient UV light eliminates 99.99% of allergens, bacteria, mites. The unique ultrasonic waves inhibits the reproduction of mites.
【4D Auto Brush】Boreas unique 4-dimentional Auto-Rolling brush, is featured with two inward V-shaped silicone strips+two soft bristles strips, which has better dust collection and less clogging or tangling. It beats up and remove all the mite residue without scratching the fabric.
【Full Filtration&Double Chamber】6 stage filtration with true HEPA effectively captures and removes dust, pet hair, dander, pollen and mite debris. Protect the motor and prolong the service life, as well as to avoid secondary pollution. Double chamber design reduce the blockage in the air outlet. (Replacemt HEPA filter: B0BYJML6GY. )
【No Restriction Cleaning】235mm ultra-wide suction mouth picks up all the large & tiny debris and hair. The 16.4ft/5m long cord saves you a lot of time and effort to switch to different power socket. Quick and easy to conduct a large-scale cleaning and sanitizing job.