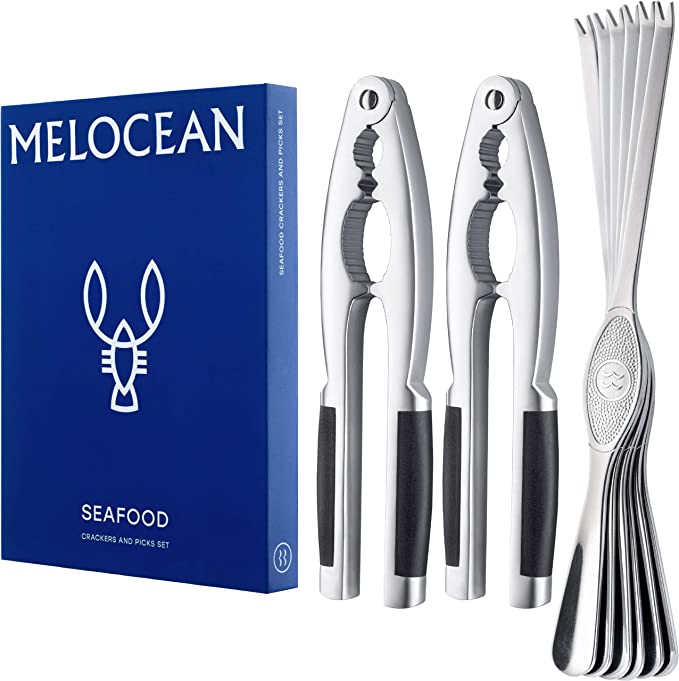 💪 STRONG AND STURDY 2 CRACKER TOOLS – Our lobster cracking tools serve as crab tools and seafood crackers but also nutcrackers for nuts. Use them as crab claw crackers or nut crackers for walnuts.
👍 THICK ERGONOMIC EASY GRIP HANDLES – Forged from super strength zinc alloy, the ergonomically refined handles support a powerful density and comfortable non-slip gripping for easy handling.
💎 SET OF 6 STAINLESS SEAFOOD FORKS – Finished with tapered points for picking meat from lobster tails or crab legs, the 6 crab forks in this pecan nutcracker set make eating shellfish easy.
🎁 PRACTICAL KITCHEN GIFT FOR FOODIES – Packaged in gift boxes, our 8 piece sets of pecan nut crackers and picks make great foodie gifts. These are the preferred pecan nut cracker tool for all nuts and seafood.
💯 LIFETIME WARRANTY AND 100% SATISFACTION – We proudly back each crab and lobster tool set with a lifetime warranty. Trust the MELOCEAN DIFFERENCE and place your order right now!