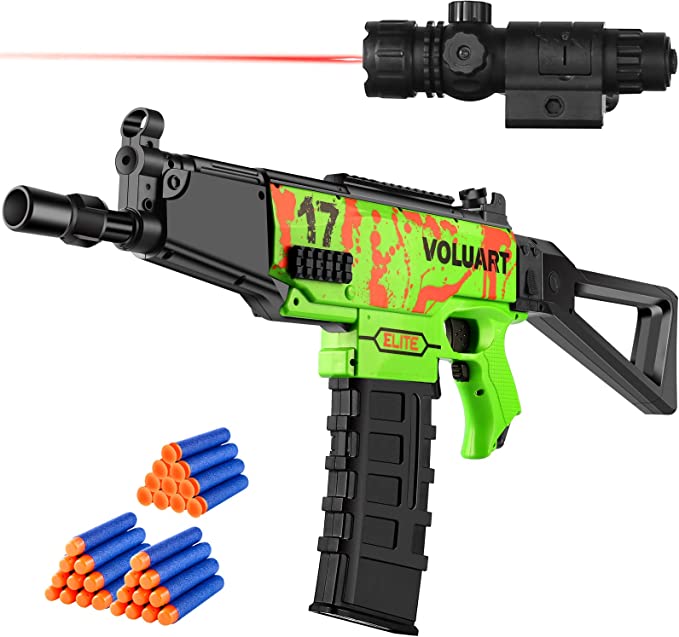 【Perfect shooting experience】Voluart soft bullet gun has single shot, 3 darts burst and full-auto. You can choose different shooting modes according to your preference. We also equiped with an upgraded high-capacity magazine which can hold 12 rounds of soft darts at a time! Making your kids enjoy a fun, exciting shooting game!
【A lot of Soft Bullet】We give away 30 rounds of high quality soft bullets. Soft bullet is made of high quality EVA. Medium size and light weight. Long flight distance is guaranteed without harming children or breaking your .
【High quality rechargeable battery】Our soft bullet toy gun is equipped with high performance rechargeable batteries and a USB charging cable. The battery has passed rigorous factory tests after manufacturing, making it has a long life and good quality.
【Wide range of accessories 】Our soft bullet toy gun are equipped with sights and infrared laser. Compared with other soft bullet toy gun, using these special accessories to aim object, which will make you to shoot accurately. Not only that, tip, stock, magazine can be disassembled to let children enjoy the fun of assembling
【Ideal gift for kids】Our soft bullet toy gun is made of high quality ABS plastic, which is safe and non-toxic. Its soft dart is compatible with Nerf guns and other brands of blaster guns. This is the ideal gift for children aged 6-12.