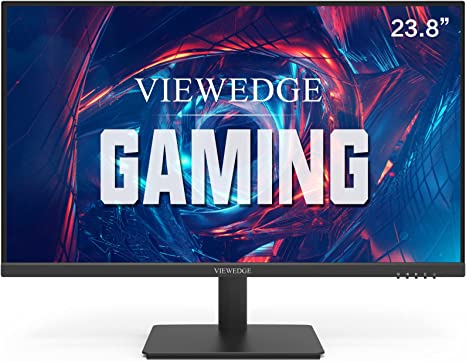 【 24'' FHD Gaming Monitor 】Viewedge 24-inch Full HD (1920 x 1080) 165hz 16:9 gaming monitor uses a VA panel with a contrast ratio of Millions : 1, 178-degree viewing angle, and 5ms response time. The CS24FC monitor provides a decent color and visual experience.
【Motion Blur Reduction】This FHD 165Hz monitor has the ability to offer more frames per second, which can result in reduced motion blur and improved clarity, particularly in fast-paced games. As a result of its high refresh rate, you can enjoy a better gaming experience with this monitor.
【Adaptive Sync】Enjoy a smooth and fast gaming experience. Adaptive Sync eliminates screen tearing and stuttering, resulting in seamless and fluid visuals. Whether you're playing fast-paced action games or exploring visually stunning worlds, Adaptive Sync helps to deliver a more enjoyable and immersive gaming experience by maintaining optimal synchronization between the graphics card and the monitor.
【Multi-Connection Option】Flexible connection options include HDMI x 1 (Cable Included), DP (DisplayPort) x 1 (No cable included), and Audio Out. The wall-mountable feature (accessories not included) offers flexibility in positioning, allowing you to optimize your viewing experience and save valuable desk space. Please keep in mind that the DP 1.2 cable provides a 165Hz refresh rate, while HDMI 1.4 can only provide a 144Hz refresh rate.
【After-sales Guarantee】Viewedge has been manufacturing monitors for over 10 years, and is committed to providing high-quality computer monitors at cost-efficient prices, along with premium service. To ensure the best possible service, Viewedge offers a 30-day free return guarantee and a 3-year warranty.