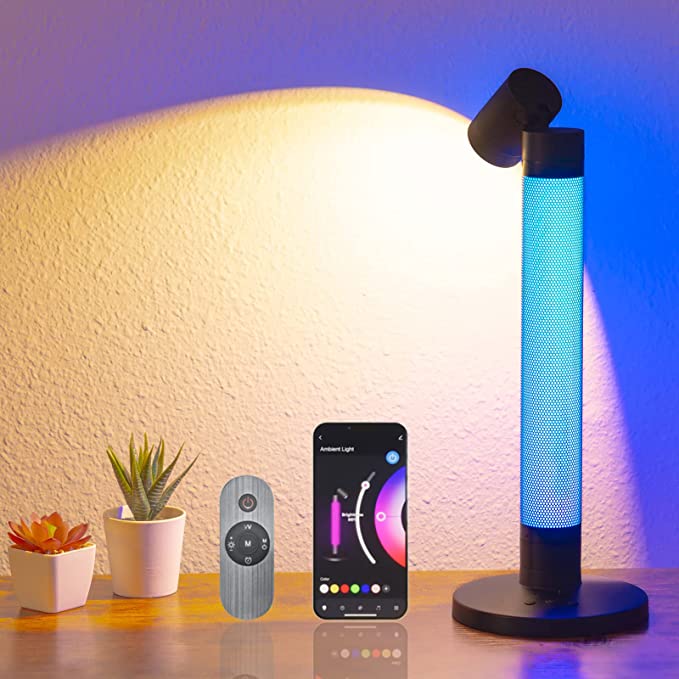 𝟮 𝗶𝗻 𝟭 𝗟𝗮𝗺𝗽:With our 2-in-1 lamp, you'll enjoy the functionalities of both a desk lamp and an ambient lamp in one sleek design. The lamp's top features a powerful 600LM LED light source , making it perfect for reading and working. And when you're ready to unwind, simply adjust the lighting for a relaxing ambiance.
𝗠𝘂𝗹𝘁𝗶𝗽𝗹𝗲 𝗖𝗼𝗻𝘁𝗿𝗼𝗹 𝗠𝗲𝘁𝗵𝗼𝗱𝘀:Our lamp offers multiple control options to provide you with the convenience and flexibility you need. You can easily control the lamp using the physical button, infrared remote, or Smart Life app, and you can even use your voice to control the lamp with Alexa or Google Assistant. With our lamp, you can enjoy the freedom of controlling your illumination from anywhere in the room. (Please note that our lamp is only compatible with 2.4GHz networks.)
𝗗𝗶𝗺𝗺𝗮𝗯𝗹𝗲 & 𝗥𝗼𝘁𝗮𝘁𝗮𝗯𝗹𝗲:With the app, you have the flexibility to adjust both the color and brightness of your smart lamp to your preference. The 360° rotatable design of the lamp allows for all-round illumination.Moreover, the lamp head comes with an induction switch, which allows you to turn the light on and off simply by pointing it upwards or downwards.
𝗠𝘂𝗹𝘁𝗶𝗽𝗹𝗲 𝗦𝗰𝗲𝗻𝗲 𝗔𝗽𝗽𝗹𝗶𝗰𝗮𝘁𝗶𝗼𝗻𝘀:The desk lamp has 3 color temperature options and brightness adjustability from 0-100%, providing a comfortable lighting environment for your work or reading. With 6 single colors and 4 RGB dynamic modes, and 3 music rhythm modes, it creates a romantic atmosphere for you. It is suitable for various occasions, such as the office, living room, game room, and bedroom.
𝗪𝗵𝗮𝘁 𝗬𝗼𝘂 𝗚𝗲𝘁:A high-quality table lamp, an adapter, and a guide. Enjoy 12 months of product service and friendly customer service.