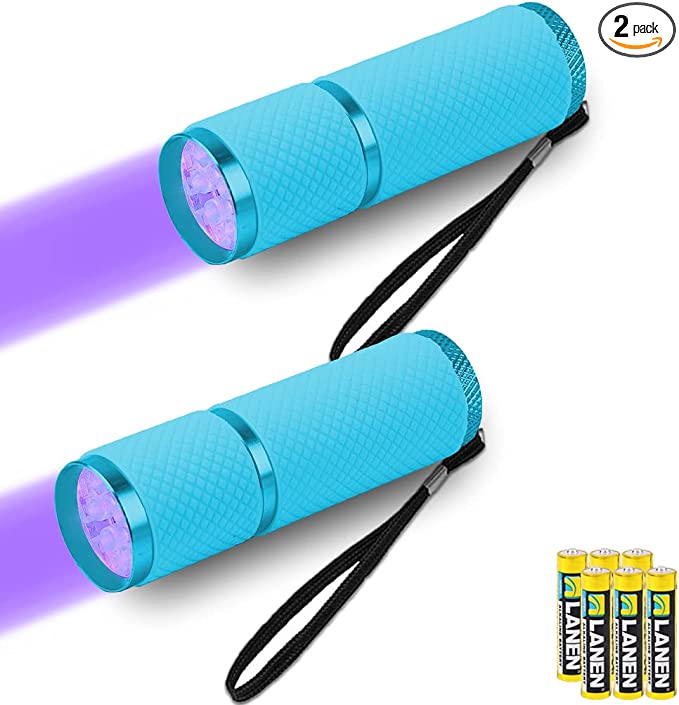 🔦High-quality UV light: 👉Equipped with 9 F5 UV LEDs, this flashlight emits a powerful and stable 395nm wavelength ultraviolet light, while the ABS plastic reflector cup helps focus the beam for more concentrated illumination and accurate, reliable detection.
🔦Durable construction: 👉Made from premium materials such as aircraft-grade aluminum alloy, waterproof, and covered with a removable non-slip silicone protective sleeve for a soft touch. This sturdy structure ensures the flashlight can withstand daily wear and tear and accidental drops.
🔦Portable and compact design: 👉Measuring 91mm (3.58 inches) x 28mm (1.1 inches) x 28mm (1.1 inches) and weighing just 47g (1.66 ounces), this flashlight features a convenient wrist strap at the tail for easy carrying and storage.
🔦Battery-powered: 👉Includes 6 AAA batteries, providing a convenient and cost-effective power source for extended use. The easy-to-use tail button switch ensures quick and convenient operation.
🔦Versatile applications: 👉Suitable for various purposes such as detecting pet urine stains, validating currency or identification documents, leak detection, inspecting household cleanliness, and identifying fluorescent materials, among others.
🔦Vibrant colors: 👉The exterior boasts bright colors that add a touch of style to its functionality and make it easy to locate in your bag or toolbox. Plus, you can choose from various colors, including yellow, green, blue, and pink, making it an ideal gift for children, men, and women.