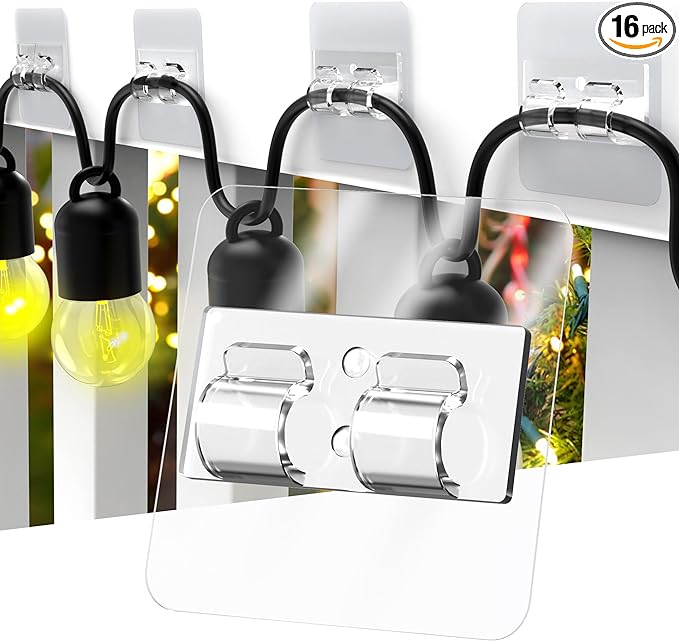 💡Enhanced Durability – HomeMount Outdoor String lights Hooks features adhesive area of 2.15*2.15 inch, surpassing competitors and ensuring a stronger hold. We use superior nano adhesive material that guarantees it won't easily fall off.
💡Easily Adjustable – While the larger adhesive area ensures a strong hold, the product can be easily trimmed or cut to fit smaller areas if desired.
💡Versatile Outdoor Use – Perfectly suited for various outdoor settings such as patio string lights, fence string lights, Christmas string lights, outdoor string lights, Halloween string lights, and party string lights.
💡Compatibility with Different String Lights – Our product is compatible with a wide range of string lights, including outdoor bulbs string lights, solar string lights, crystal globe string lights, Christmas string lights, and fairy string lights.
💡Indoor Application – Not limited to outdoor use, our product is also suitable for indoor applications such as cable management for desks and indoor string lights. It is ideal for use in offices as well.
💡Versatile Wall Compatibility – The adhesive is designed to work effectively on various wall surfaces, including metal, glass, wood, marble, tile, and plastic. It is not recommended for use on uneven, ash, leather, textured surfaces, or metopes.
💡Hassle-Free Installation – No tools or additional equipment are required for installation. The product is designed for simple and easy use, saving you time and effort while enjoying the benefits of outdoor lighting.