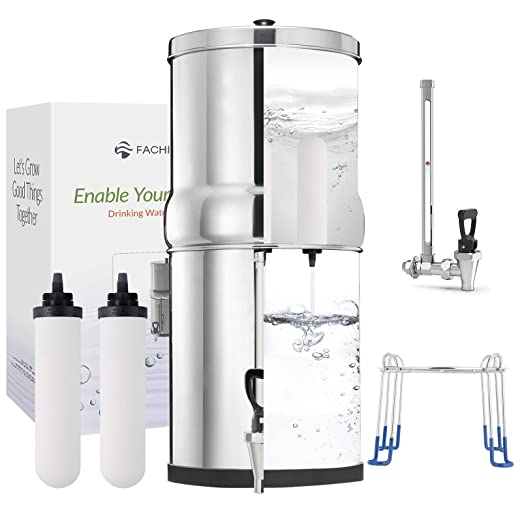 [Super Capacity]: 2.25 gallons of large capacity, lightweight design, moderate volume, easy to carry, refreshing water at home, camping, RVing, off-grid, emergencies. Note: Before use, please rinse the filter for 1 minute before connecting to the faucet.(Size: 18.7″L x 8″W x 8″H )
[Four-Stage Filtration]: The King Tank gravity-fed water filter system use composite filtration technology to effectively reduce residual chlorine by up to 99% and improve taste. The filter effectively reduces heavy metals, sediment and other impurities while retaining minerals that are beneficial to the human body.
[Food-Grade Stainless Steel]: King Tank water filter is made from high-quality food-grade stainless steel, with two ceramic filter and a stainless steel cover. A special matte finish on the interior prevents scratches over time, and a mirror finish on the exterior creates a shiny and stylish look. External water level gauge for easy reading. Your best filter bucket with a li
[Easy to Assemble]: King Tank countertop water filter system runs without electricity and is easy to set up and install. This is true even during severe weather such as floods or blizzards, making it crucial in an emergency.
[Best Gift]: to give to family, friends and family the best gift, such as birthday gift, chef gift, Thanksgiving gift, Christmas gift, New Year gift. The best supplement of kitchen water, enjoy the product lifetime technical service support!