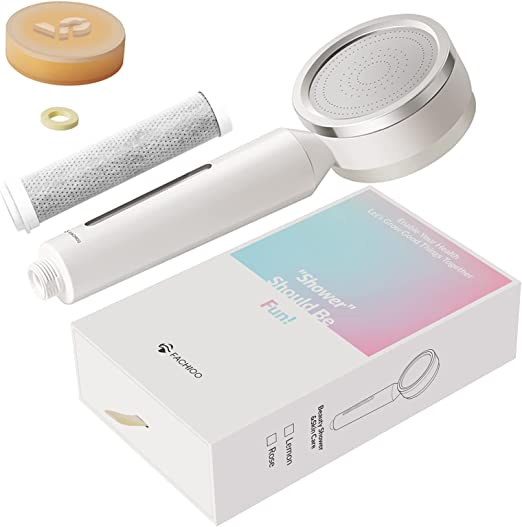 [Health Shower System]: Do you suffer from dry skin, weak hair, or unpleasant smells coming from your showerhead? Our shower filter for hard water contains lemon fragrance VC filter, which can slow skin oxidation, brighten skin, moisturize effectively, and maintain skin elasticity. Having a safe and healthy bath water will make skin more moist and hair more shiny.
[Multistage Filter]: The vitamin infused shower filter adopts carbon fiber filter element, effectively intercepting large particles of impurities, strong absorption of chlorine, heavy metals (lead, mercury, nickel, chromium) and other harmful substances in urban tap water. Soften water quality and reduce itching and dryness of sensitive skin.
[High Pressure Water Saving]: This shower head water filterd with clever nozzle design and carefully carved waterways help build pressure, prevent clogging and provide you with a powerful shower experience that relieves physical fatigue in minutes.
[Easy Assembly]: The high pressure shower head is suitable for G1/2 threaded connection to any standard size shower arm with simple DIY installation and filter replacement; Suitable for any standard showerhead including wall, double spray, combination, stationary, rain and shower with filter. (Note: The shower arm is not included)
[As a Fashion Gift]: FACHIOO water softening shower heads is one of the longest lasting filters on the market. Beautifully designed and small, the hard water shower head filter can be easily installed in your bathroom, RV or office to meet your daily bathing needs, making it ideal for parents, loved ones, children and pets.
[Super Service]: This fixed shower head filter have been manufactured to the highest standards of quality and workmanship. All buyers enjoy: lifetime technical service support,30 day warranty,24/7 service.