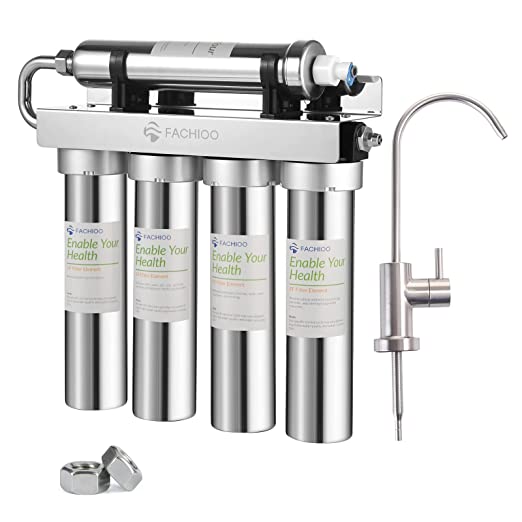 [Deep Filtration]: This under sink water filter system is equipped with 5 stages (ultrafiltration /PF/CF/CB/SF) to achieve deep filtration to reduce silt, rust, cysts, residual chlorine, lead, heavy metals, etc. (From the point of view of drinking health, It also adds beneficial materials like potassium, magnesium, and calcium, thus it cannot lower TDS value.)
[High Quality Materials]: The under counter water filter body and faucet under the platform are made of strong stainless steel, and the lid is equipped with a thickened seal ring, which is durable and not easy to crack. The system has also passed various material safety and structural integrity tests.
[Service Life Up to 24 Months]: The under counter water filter system service life of the system is 3-6 months for PF, 6-12 months for CF/SF/CB, and 12-24 months for UF (depending on local water quality). Long service life can reduce the frequency of replacement and save money.
[Easy to Install]: The under sink water filters is complete with accessories and requires no plumber. Referring to the instructions, we made all the connections in 5 minutes, in addition, the twist lock design housing can be easily unscrewed, allowing quick replacement of each filter. (Note: need to reserve the wrench for later replacement of filter element)
[Affordable]: This under sink water filter system can meet the daily water needs of a family of five for less than 10 cents per gallon of filtered water, helping you save more than 60% compared to buying bottled water.
[Super Service]: This under sink water filter system have been manufactured to the highest standards of quality and workmanship. All buyers enjoy: lifetime technical service support,30 day warranty,24/7 service.