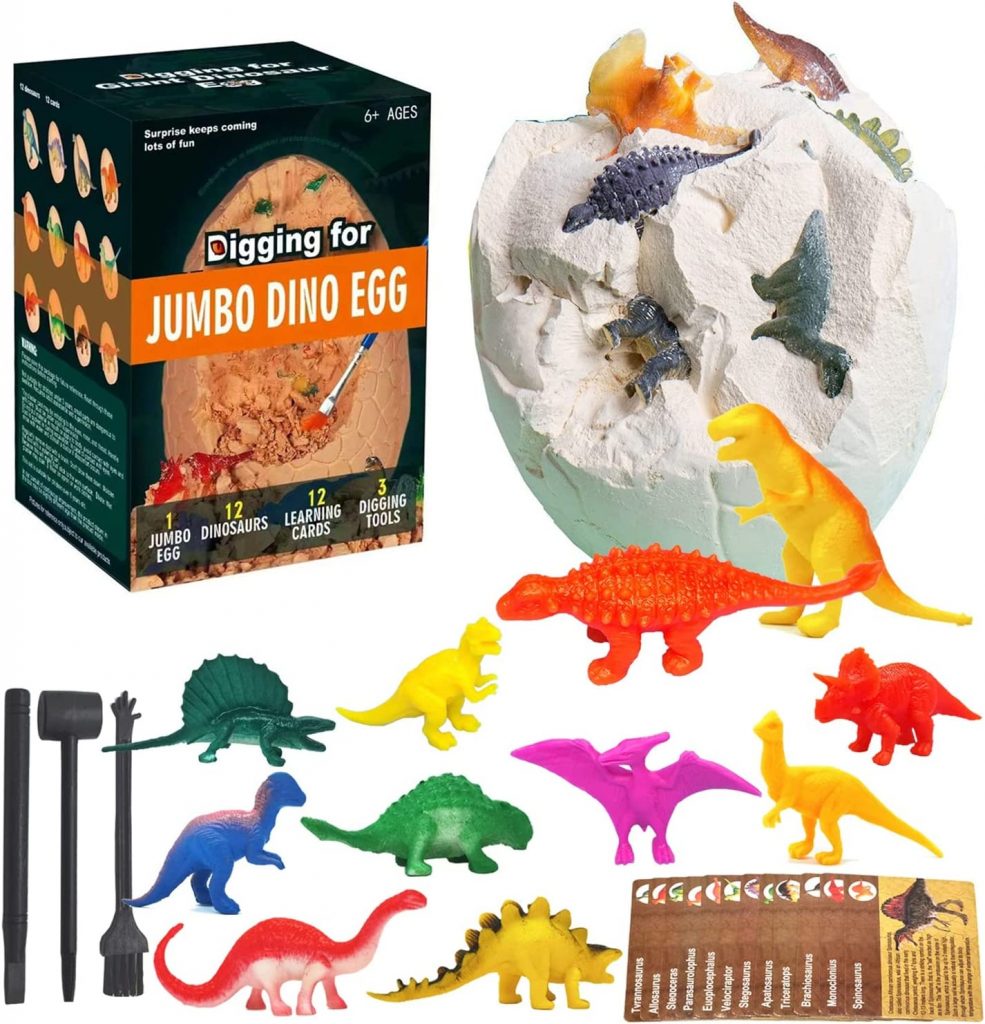 Super Cool Dinosaur Toys for Kids — This jumbo dinosaur egg toy lets your kids experience the excitement of being a paleontologist by digging up and discovering the dinosaurs hidden inside the eggs. It's an absolutely novel & cool toy for 3-5/5-7/6-8 & 8-12 year old boys and girls.
Fun Science Educational Kit for Kids — Feel like a real paleontologist dig up & discover 12 unique toy dinosaurs; It fosters a love of science and paleontology in a fun and exciting way, the kids will learn the history and characteristics of the dinosaurs, and have fun in the imaginary dinosaur world.
Perfect Gift For Kids — This dinosaur excavation science kit encourages your child to learn about dinosaurs and the science of paleontology in a fun, hands on way. It is a perfect birthday gift, Christmas stocking stuffers, Easter basket stuffers for Kids, you can also give it as the dinosaur party favors, classroom rewards for boys and girls aged 3 4 5 6 7 8 9 10, especially those who are dinosaur enthusiasts.
Dinosaur Party Favors — This large dino fossil egg dig kit keeps kids busy and intrigued while digging the dinosaur up, perfect for a kids' dinosaurs' themed party activity, also perfect for Halloween, Easter and dinosaur party decorations supplies.
Great Family Game — We encourage parents to play with their children with this dinosaur toy. This is an excellent family activity to increase interaction between children and their parents. Develop and improve their patience, attention span and manual skills, stimulate their imagination, and cultivate their interest in science.
Safe and High Quality — Made from High quality plastic & Medical grade gypsum,Safe & Non-toxic; Conforms to ASTM-F963 US toy safety standard.
Satisfaction Guaranteed — If you have any questions, please feel free to contact us. We will be sure to help you with our best service, if you are not satisfied with the toy, we will refund you.