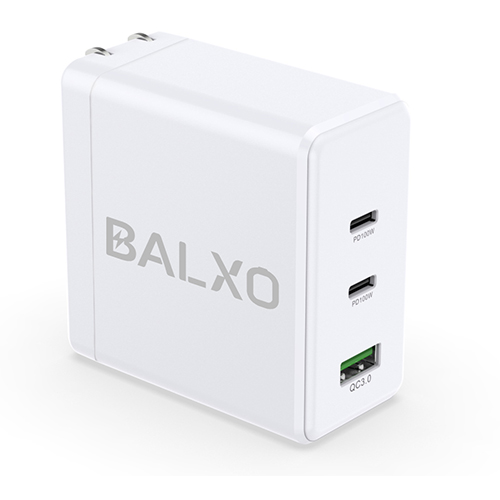 【Ultra-Fast Charging】 Connect to any USB-C port to provide super-charged 100W of power to your laptop.And when you connect three devices, power will be distributed efficiently between ports to ensure you get the best charge.
【One Socket Fast Charge 3 Devices】 You can charge for 3 devices simultaneously. This 100W GaN charger is able to charge 2 laptops plus 1 USB-A devices at the same time. All ports support QC (quick charge) agreement. Only one charger meets all your charging needs.
【GaN II Technology,Higher Charging Efficiency】Heat dissipation is one of the core factors affecting power efficiency.The generation gallium nitride(GaN)semiconductor helps the charger to generate less heat and fasten the heat-dissipating process.At the same time, the BALXO 100W charger provides double power density, reduces power loss and improves power efficiency.
【Wide Compatibility】This 3 port desktop charger supports Power Delivery 3.0/Quick Charge 3.0/PPS/20V5A charging protocols. Compatible with MacBook Pro, MacBook Air, Dell XPS, iPhone 6 to 14 series, iPad, Galaxy S22/S21 series, Steam Deck and more!
【Portable, Compact Design】 A GaN chip combined with a foldable plug design make this 100W charger compact,the foldable charger is convenient for storage and use without a sacrifice in quality or power.
【Safety protection】 Matches the current as your device's need automatically, and provides current regulation, temp control, and short-circuit protection to ensure safe charging.